France 2006: Modern Architecture and Medieval Villages
Table of Contents:
Clicking on the images links to a larger version of the image.
All images were taken by and are copyright © Kate Withey & Eric A. Hulteen 2006.
Edited on Friday 3 October 2008.
Paris
We got to Paris around noon on Sunday (April 30th), spaced and jet-lagged after 20+ hours of traveling, and Kate coming down with a cold (and missing the nonstop SFO-Paris flights!). We navigated our bags through trains and metro in search of luggage lockers — which we found through a security screening point at the Montparnasse station — because we couldn't pick up the key to the Kate's friends' apartment until 6:00 PM. We spent the afternoon walking in the drizzle by the Seine and warming up with onion soup in a cafe. When we finally made it to the apartment on rue de la Butte aux Cailles (for non-francophones, that's "roo de la boot oh ki" — near Place d'Italie in the 13th arrondissement), we were in bed by 8:00 PM.
We hoped that a good night's sleep — or maybe the adrenaline of being in Paris — would cure Kate's cold, but instead she woke up with laryngitis. For our first three days, in addition to all the usual sneezy stuffy cold symptoms, she could only whisper. Since Eric speaks not a word of French, and Kate had naturally promised to be translator as well as tour guide, this made for interesting communications. Mostly Eric made Kate lots and lots of hot tea with honey (from the honey shop next door to the apartment), Kate tried to convince Eric that fresh, warm baguettes and croissants and pains au chocolat in France are entirely different from anything that can be found in the US, and we took it easy.
Monday was May Day — which is Labor Day everywhere in the world except the US — so everything was closed except the odd corner market and patisserie, and street vendors selling tiny lily of the valley ("muguet") bouquets, which, for inexplicable French reasons, everyone in Paris buys, wears, or gives people on Labor Day.
Among Eric's first impressions of Paris was how different the people are (and why people-watching is, in fact, an interesting pass-time there). It's difficult to describe the differences, except for some obvious ones: Many people smoke and many of those that smoke roll their own. Many people ride motor scooters; there are the same number of motorcycles as there are in San Francisco, but three times as many scooters as motorcycles. The people look different; generally thinner than their American counterparts. And many people carry baguettes with them any time of the day: it seems as if one of ten people walking down the street is carrying a baguette (usually two); we bought two and carried them ourselves. He asked Kate why there were posts — Kate learned the word "bollards" — blocking the sidewalks all over, and didn't quite believe her answer "So that people won't drive on them" until he'd spent a few days experiencing Parisian drivers.
On the Seine
Although we didn't do most of the usual Paris tourist things, we spent a lot of time walking by the Seine. Eric liked the bridges: the Pont des Arts looks like an impressionist painting here (it's the umbrella...), and the Passarelle Solferino has stairs that come up in its center from the lower Seine quay to a hole in the upper bridge (which you can't really see in this picture — it's just a cool shot). And, of course, we had to admire the flying buttresses of Notre Dame.
Bibliothèque nationale de France, site François Mitterand
Mitterand liked monuments. The new Bibliothèque is not a user-friendly public space, but it is monumental. The approach is intimidating; the building's towers (four L-shaped corners like four open books) are massive; the whole place feels impersonal. The bits of nature that are included are in bondage (what is it with bondage and the French?). The bushes outside are literally in cages. The central courtyard holds an inaccessible sunken forest whose trees (which smelled like juniper or pinion) are clearly not happy and are held up precariously with guy-wires.
The reflections of the perpendicular halves of the tower on each other make it look like two buildings intersecting.
Institut du Monde Arabe
The whole south side of the Institut du Monde Arabe is made up of windows with photosensitive, mechanically irising shutters. (One assumes they had lots of oil money to spend on the building.) The overall effect, though metal and monochrome, is evocative of Middle Eastern mosaic patterns. Most of the shutters were working, but apparently they move extremely slowly: we saw them in both open and closed states, but however long we stared at them, we couldn't actually see any of them moving.
Catacombs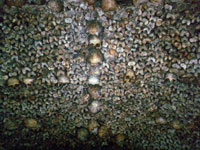 In the 18th century, there were so many bodies in Parisian cemeteries that they were contaminating the water supply and causing disease, so the bones were excavated and moved to some of the labyrinthine abandoned quarries under the city.
Whoever put them there got bored with just stacking them up, so they arranged them artfully, with designs made of skulls and femurs on the outside edges (to a height of 5-6 feet), then a jumble of other bones extending 8-10 feet back. Corridor after corridor, chamber after chamber: the sheer quantity of bones there is stunning. Hundreds of thousands of dead Parisians. Do they still vote in French elections? They probably would in the US....
Big Mini
Kate's been lusting after a Mini Cooper since they came out because (aside from being cute) they're so small that she could park one in a million places in San Francisco that her "giant" Honda Civic won't fit into. Then we got to Paris and saw micro Smart Cars ("Fortwo") all over, and now she wants one of those even more: they're even cuter and way smaller... but they're not available in the US. Sigh.
According to Wired Magazine The Smart microcar could be the next big thing on America's roads.
In fact, one of the first things that Eric noticed about Paris is how small everything is: the cars, the trucks, the construction equipment, the trains.
Here's Kate by a Smart Car that makes the Mini look huge.
Road Trip: Elsewhere in France...
We put off our planned road trip one day — Kate having decided that denial wasn't working and decided to try a doctor and drugs instead. The process was surprisingly polite, efficient, and cheap... though, unfortunately, more or less ineffectual. By Friday, her laryngitis had progressed from a whisper to a croak, though, and we headed off. We went south to the Massif Central region, and saw a huge variety of French countryside — from picturesque patchwork farmlands and New-England-like rolling hills to dramatic cliffs & gorges.
Millau Viaduct
Kate loves Paris. Eric loves bridges. When we decided that Kate could actually get Eric to go to Paris, we also decided that Eric could get Kate to take a road trip to see the Millau Viaduct.
We wondered during the drive: what's the difference between a bridge and a viaduct anyway? It turns out that bridge is the broader category — a structure that allows people or vehicles to cross an obstacle (such as a river or canal or railway) while a viaduct is a bridge; especially, one for crossing a valley or a gorge.
Eric (who was driving) said "Shoot the hell out of the bridge" so we ended up with 80 pictures of it: most taken through the windshield; many bizarre angled abstractions of cables and sky. (We drove over the bridge three times — once by mistake — and under it once.)
The Viaduct has the highest bridge piers in world; hence claim to the title "Highest Bridge in the World". The overall height of the cable-stay tower and the tallest pier is 341 metres (1,118 ft). Note in the diagram the bridge's height relative to the Eiffel Tower!
La Couvertoirade
This was a medieval city built in the 13th century by the Templar Knights, who were warrior monks active in the Crusades. Parts of the city and fort were original, parts rebuilt and touristicated. As far as we could tell, the knights were there to protect the village, for a price (kind of like the mob...): they let the villagers into their fort when they were attacked, but you know they got something out of it.
Nant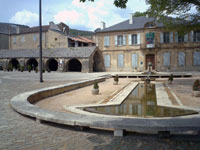 We had lunch under the arcaded gallery in this picture; Eric liked the waterway. We also bought "Templar Cookies" (basically sugar cookies with the Templar Knight's cross on them) — Nant being near La Couvertoirade — and a sheep's milk cheesecake thing called a flaune.
Saint-Véran
Another medieval town, this one at the top of a one-lane road full of blind hairpin turns. Kate loved the stone tiled roofs and the way the old tower echos the natural rock formations.
La Vacquerie-et-Saint-Martin-de-Castries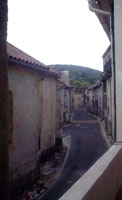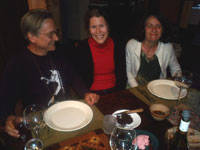 We spent a couple days with Kate's friends Henry and Claire in La Vacquerie (you don't really have to call the town by its full name, but many French places have these delightfully impossible long names). The view from Henry's window shows the village's main street.
Stuck in Figeac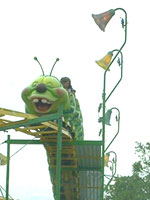 Eric had fun driving our tiny little Renault Twingo rental car in strange foreign places, though he was a little disconcerted when the gendarme in a town called Figeac having a carnival with all the streets blocked off inexplicably let us drive straight into the closed-to-automobiles pedestrian district. We found ourselves in the middle of a pedestrian mall, no other cars in sight, so we had to navigate a U-turn (Kate on foot to negotiate with the French pedestrians) in the narrow cobblestone intersection full of milling people. When we'd escaped, the same gendarme who let us enter, instead of arresting us on the way out, politely gave us directions to bypass — more or less — the faire.
Martel
We stopped for the night — completely at random — in what turned out to be another medieval town that was quite charming. This one has been lived in continuously, and it was fascinating to see the ways it had been rebuilt over hundreds of years: archways filled in to become doors or glazed to become shop windows, walls crumbled and rebuilt, but many of the ancient bits still in use today.
Château de Chenonceau
We drove back to Paris through the Loire Valley chateau country, and Kate decided if Eric was only going to see one chateau — we didn't make it to Versailles — it should be Chenonceau, given how much Eric likes water. Chenonceau (built over the years by many French kings for myriad queens and mistresses) spans the river Cher. The kitchens are on the lowest floor, and we saw various trap doors and pulley systems to get deliveries off boats into the kitchens.